Microscale Ships

These microscale models of an offshore service vessel, patrol vessel, and icebreaker were commissioned by Vard Marine. Fifty kits were produced for each model, each of which included the necessary pieces, a custom printed tile with the Vard Marine logo, and full color printed instructions. Each ship is approximately 130 pieces.
Classic Castle Shields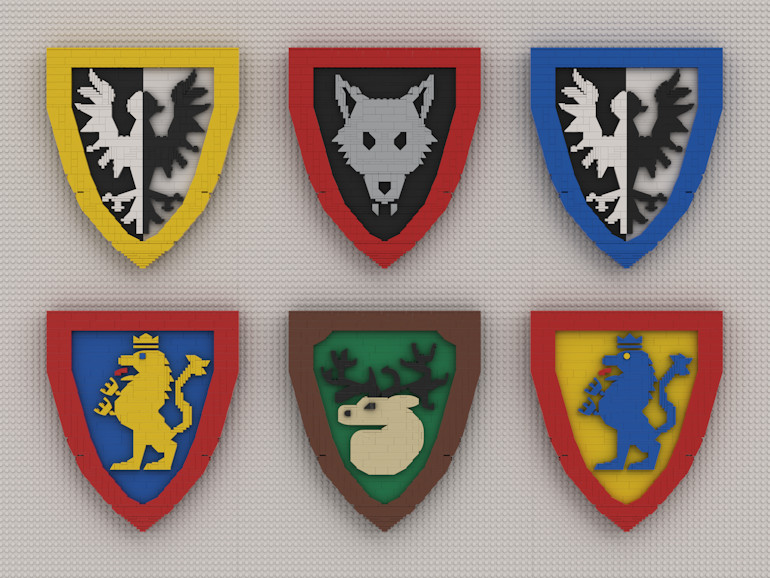 These brick-built shields are larger versions of the shields carried by my childhood castle minifigures. Each shield is approximately 10 inches wide and 12 inches tall making them appropriate for display. Approximately 500 pieces were used to construct each shield.
A variation of the Black Falcon shields is currently a product idea on LEGO Ideas. Your support of this project on the LEGO Ideas site would be appreciated.
Instructions for all of these shields are available on Rebrickable.com.
Elephant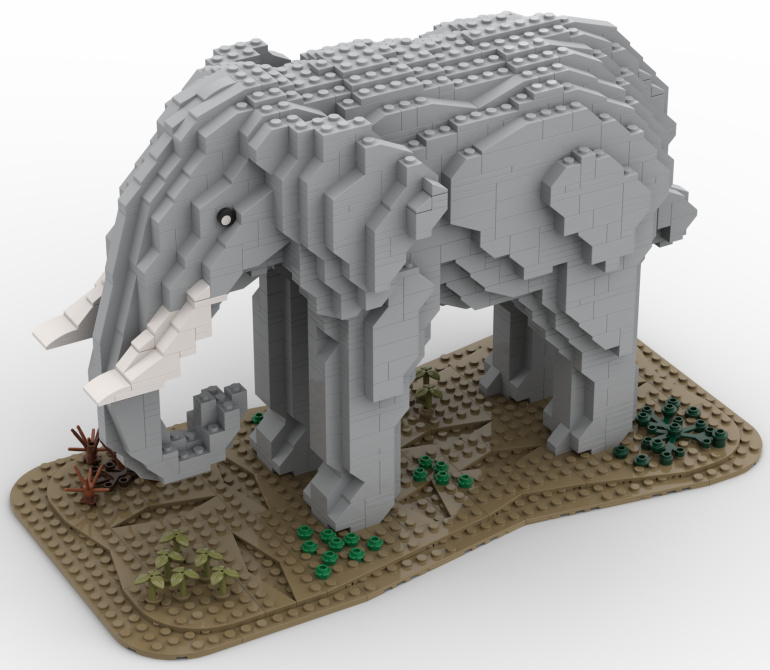 This is my second substantial elephant model. While it is smaller than the first one that I designed and constructed it is also much more detailed, using a selection of slopes and plates to approximate the elephant's curves rather than bricks alone. It also includes a small amount of terrain and plants around its feet which were not included in my previous model.
Parts: 2,202

Width: 18cm
Length: 44cm
Height: 23cm

Weight: 2kg
Instructions for this elephant are available for purchase on Rebrickable.com.
Notion Labs Logo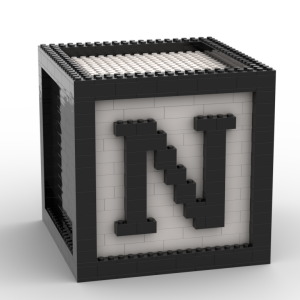 Notion Labs commissioned the design and construction of this model of their corporate logo, along with the creation of a time-lapse video of its assembly. The model is just over 6 inches on each side and was constructed from 503 pieces. The time-lapse video was used as part of Notion's Block x Block: Europe conference in June of 2021.
Colorful Hyacinths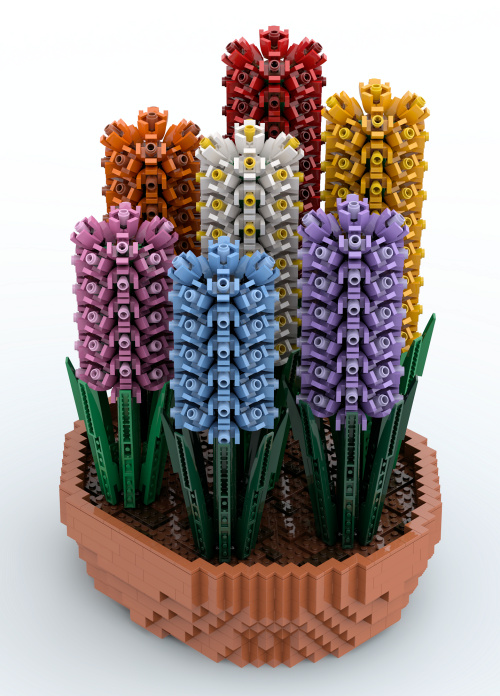 Real Hyacinths are available in a large variety of colors, and these Lego ones are no different. While there is a lot of repetition in this design the repetition is necessary to mimic real flowers. A terracotta bowl constructed using dark orange bricks completes the model.
Width: 29cm
Depth: 24cm
Height: 39cm

Weight: 2.9kg
Want to build your own collection of Hyacinths? The instructions can be purchased from Rebrickable to build them using your own bricks, or you can order a kit from LesDiy that includes the instructions and all of the necessary pieces.
Bonsai Tree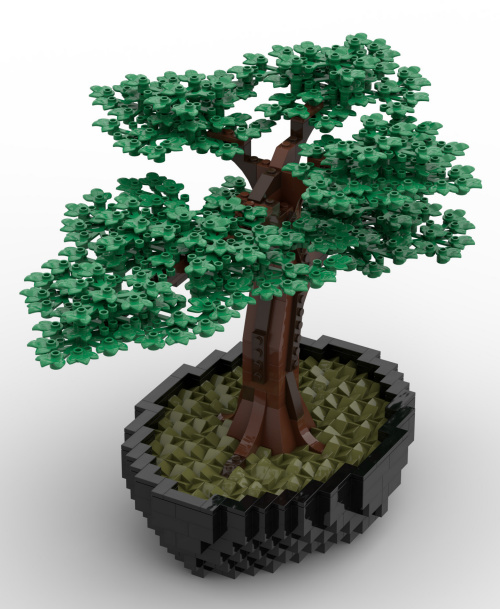 Bonsai are plants that are meticulously pruned to maintain their miniature size. The LEGO group released a small Bonsai set in early 2021 as part of its botanical collection.
Want a Bonsai tree that is larger than LEGO's official one? Then this model is for you! Our tree is more than 26cm (10 inches) tall and 43cm (17 inches) wide making it twice as wide as LEGO's official model. Our model is construct from 1008 pieces.
If you'd like one of your own you can find the instructions on Rebrickable, or you can purchase a kit that includes all of the necessary pieces for a slightly different variation of the model from LesDiy.
Tennessee State Capitol Building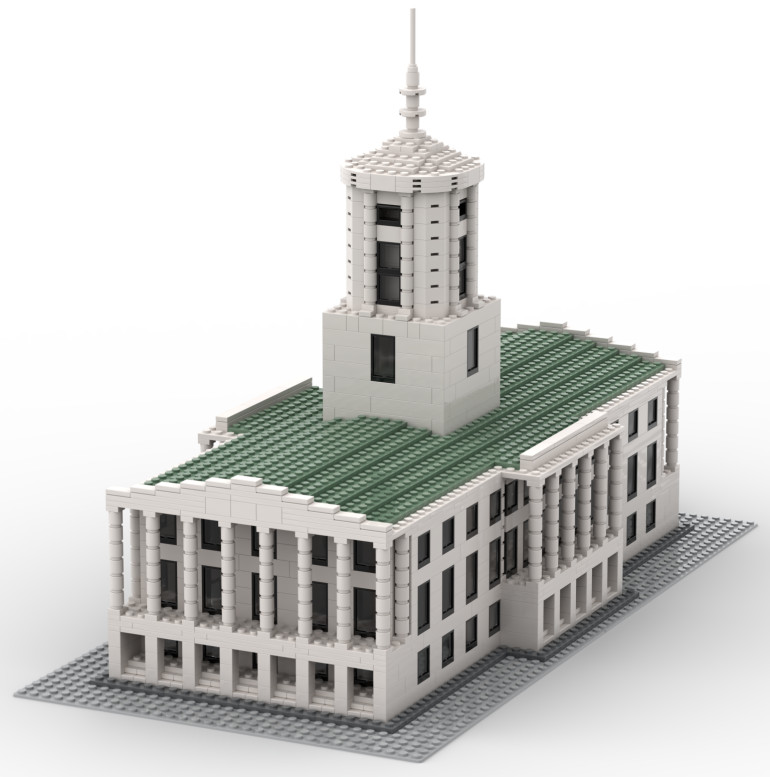 This model was commissioned as a unique gift that a father and son could build together. A complete set of instructions was created which used 184 steps to show how to assemble its 1,900 pieces. The model is 20 inches by 10 inches at its base and stands 14.4 inches tall.
Mosaics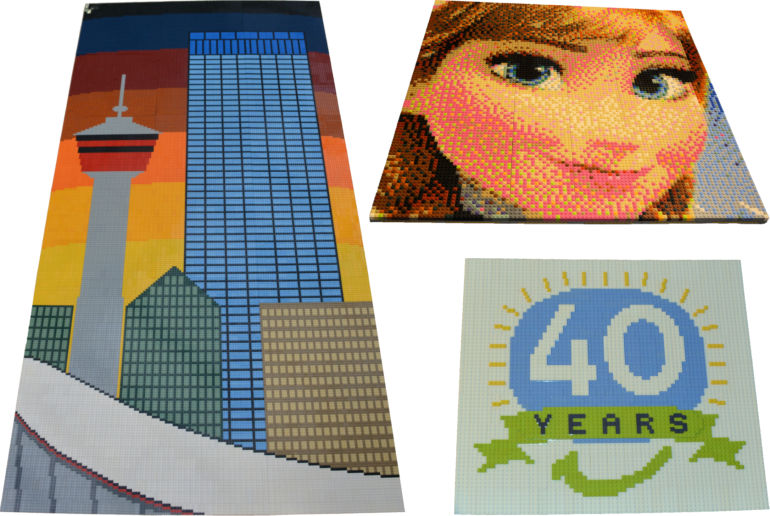 Mosaics are pictures constructed from Lego bricks.
The large Brookfield Place mosaic (45x90 inches) was construct by members of the public at a building event hosted by Brookfield Place in November 2019.
The 40th anniversary mosaic uses a raised-relief technique to give the mosaic a greater sense of physical depth and also provided the opportunity to offset parts by half a stud which improved the reproduction of the original image.
Dithering was used in the Anna mosaic to provide the illusion of a greater color depth and smoother color transitions using only the limited palette of available LEGO brick colors.
Christmas Tree Ornaments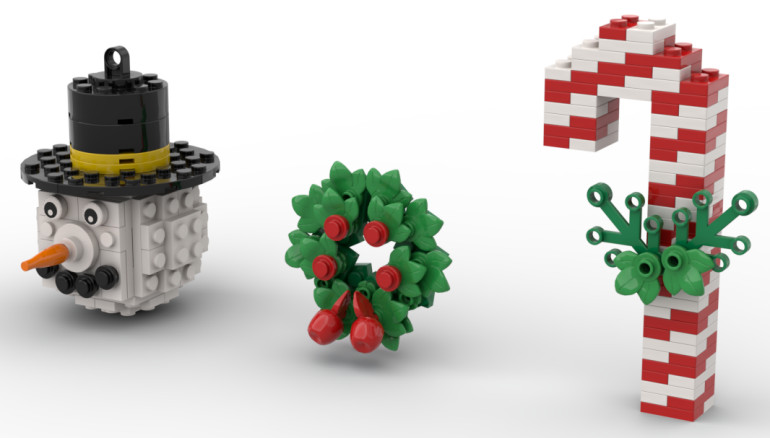 This trio of Christmas ornaments look fantastic on a Christmas tree! The candy cane uses only standard plate-on-plate stacked construction while the wreath and snowman use more advanced building techniques. A total of 189 pieces are needed to construct the three ornaments.
Want to build your own set of ornaments? The instructions are avaialable for purchase on Rebrickable for only CA$4.00.
Letter Monsters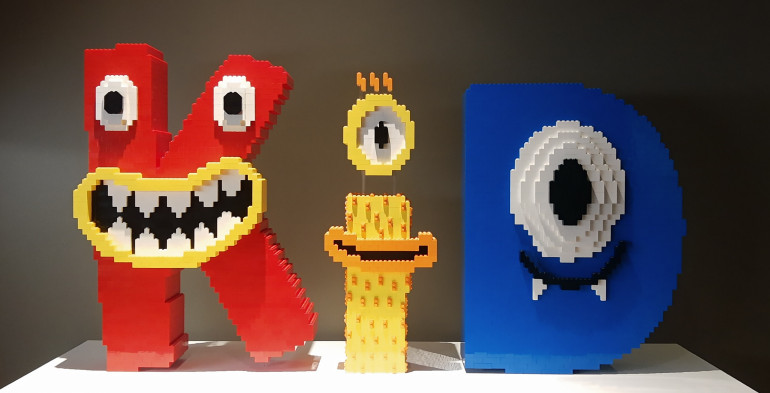 These letter monsters were constructed for Calgary-based streaming service Kidoodle.TV. They stand nearly two feet tall with a total width of approximately 3.5 feet. More than 6000 bricks were used to construct the sculptures which are currently on display as an art piece at Kidoodle's office in Calgary.
Christmas Tree
This 6 foot 8 inch tall Christmas tree was constructed for a corporate client that was looking for a unique item to display at a LEGO themed children's Christmas party. It is adorned with 73 decorations including a large star on top and numerous wreaths, balls, stars and candy canes. Both the children at the party and their parents were excited to see such a large model constructed from their favourite building toy.
Length: 141 studs (113 cm)
Width: 141 studs (113 cm)
Height: 213 bricks (204 cm)

Weight: 25.0kg
The tree disassembles into 114 large pieces (plus the decorations), allowing it to be transported with relative ease. Assembling it takes approximately 40 minutes. It is constructed from approximately 12,500 LEGO pieces.
In addition to the large tree we also provided Christmas tree kits that allowed each child at the party to build a small tree and decorate it with an assortment of LEGO parts.
Please contact us if you'd like to have this tree at your event, or to discuss any other project involving LEGO bricks.
Stampede Parade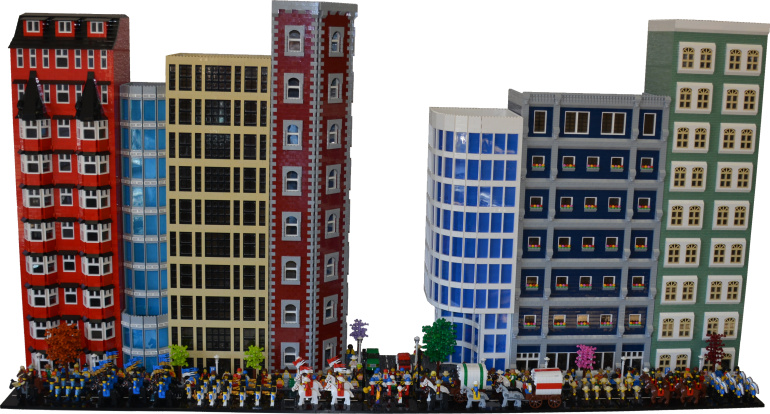 Over 200 minifigs appear in this model as spectators and members of the parade. The procession passes in front of 7 tall buildings that are between 28 and 39 inches tall. Approximately 35,000 LEGO pieces were used to construct this model.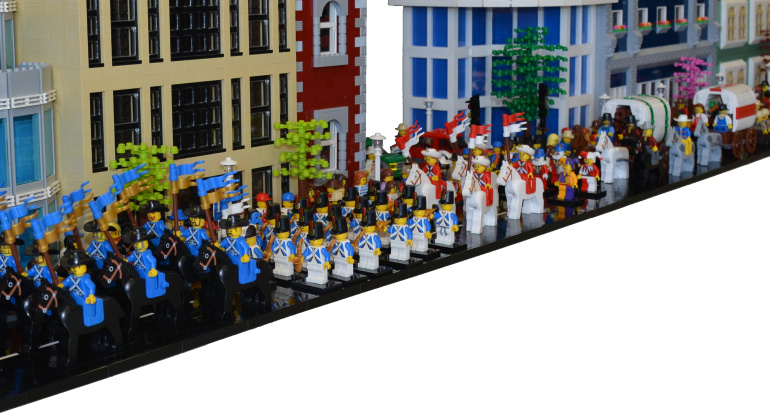 COSL Innovator Offshore Platform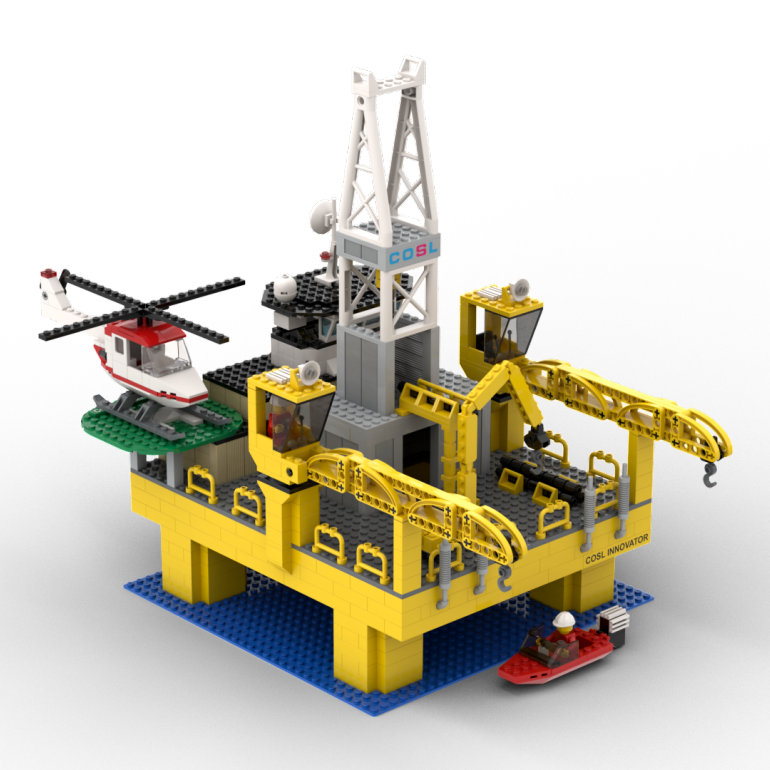 This 1045-piece LEGO model included printed instructions, a custom printed box and several custom printed bricks and minifigures. It was commissioned by China Oil Services Limited as a prize to recognize employee's accomplishments.
Sea Turtle Family

These sea turtles were constructed using plates to produce the smoothest curves possible. The small turtles each used 207 pieces while the larger one used approximately 800 pieces.
Want to build your own family of sea turtles? The instructions for the small turtles are avaialable for purchase on Rebrickable for only CA$4.00.
Unidentified Flying Object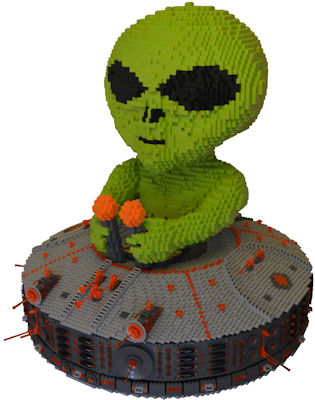 Shiptember is an annual contest that challenges builders to construct large LEGO spaceships during the month of September. This was my entry in 2016. It was a somewhat unconventional submission because of its scale -- most Shiptember builds are microscale or minfig scale rather than sculptures.
Length: 109 studs (87cm)
Width: 109 studs (87cm)
Height: 84⅔ bricks (81cm)

Ship Weight: 13.2kg (29.0 pounds)
Alien Weight: 8.5kg (18.7 pounds)
Total Weight: 21.7kg (47.7 pounds)

Total Pieces: 22,000 (estimated)
Construction Time: 75 hours

The middle ring on the UFO spins! A video showing it in action, along with some additional pictures, is available here.
Calgary's New Central Library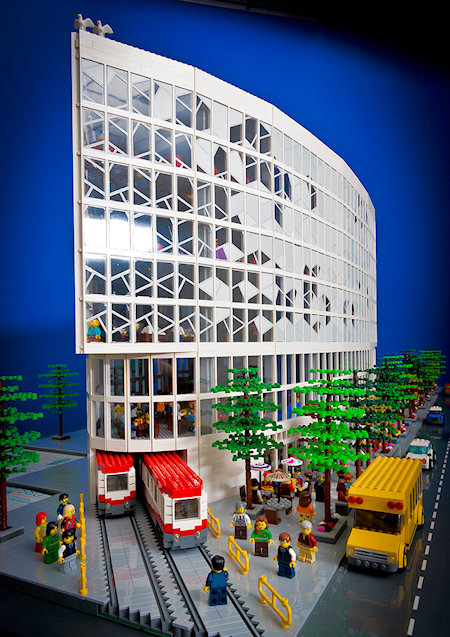 Calgary's New Central Library is currently under construction in the East Village. It will open to the public in 2018 and will include ample space for books, technology and programs.
This LEGO model was constructed at the Calgary Library Foundation's request to help build further public excitement about the project. At approximately 100,000 pieces, it is my largest creation to date.

Height: 66 Bricks (25 inches)
Width: 288 Studs (91 inches)
Depth: 128 Studs (40 inches)

Pieces: 100,000 (estimated)

Construction Time: 15 months

Over 330 minifigs call this model home.

Want to see the model in person? It is currently spending most of its time in the atrium at Calgary City Hall. Additional pictures are available here.



Not-so-Mini Figs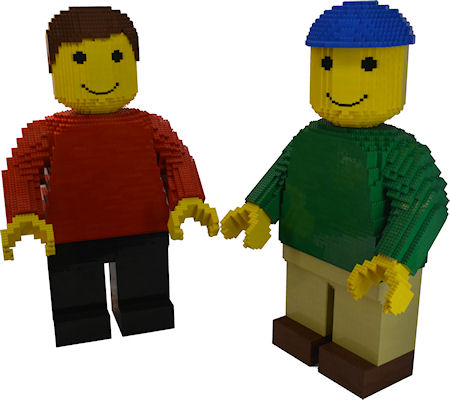 At a height of over 3 feet, these figures definitely aren't miniature! The figures are mostly hollow. Otherwise they would be so heavy that they would be difficult to move.
Heights:
Red: 97⅓ bricks
Green: 98⅓ bricks
Widths:
Red: 72 studs
Green: 72 studs
Depths:
Red: 40 studs (approx.)
Green: 40 studs (approx.)
Weights:
Red: 11.890 kg
Green: 11.108 kg
Ball Machine 2.0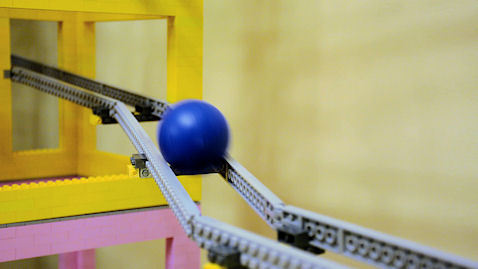 This is my second attempt at a LEGO ball machine. It is substantially larger than my previous machine, standing almost 6 feet tall. The design of this machine is also much more open than the previous one, making it much easier to view the balls as they travel through it.
When I constructed my previous ball machine I learned a number of lessons. This machine has incorporated them by using simple, reliable lifts. While they still malfunction occasionally, they are far more reliable than some of the lifts I used previously. This machine is also far less sensitive to how level the surface is that it is sitting on which makes it much easier to set up at shows.
Height: 120⅔ bricks (5 feet, 8 inches)
Width: 290 studs (7 feet, 7 inches)
Depth: 53 studs (1 foot, 5 inches)
Number of Pieces: 15,000 (estimated)
A video showing the machine in action is available on YouTube.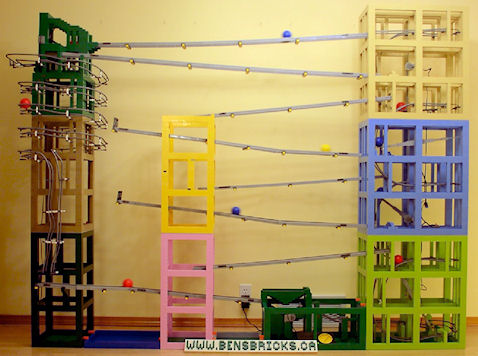 Elephant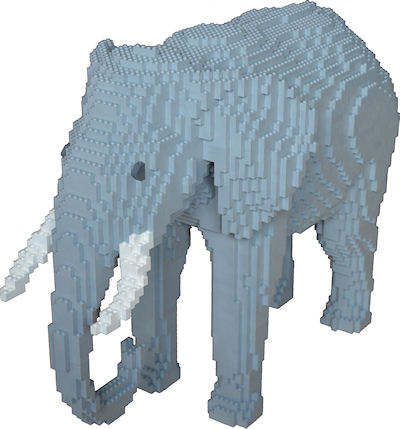 This LEGO elephant is the most challenging sculpture I have ever built. The ears were particularly difficult to construct because they are both thin and poorly supported. The trunk, which does not touch the ground, also caused some problems because of its weight and lack of support.
Length: 92 studs (29 inches)

Width: 42 studs (13 inches)

Height: 54 bricks (20 inches)

Weight: 10.0 kg (22 pounds)

Pieces: 6000 (estimated)
Wedding Cake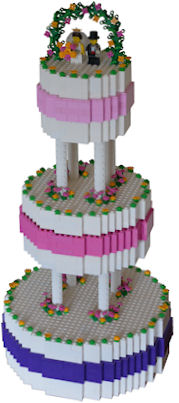 This three-tier wedding cake looks better than it tastes! Constructing it was a great way to put some of my pink and purple bricks to use.
Layer Diameters:
16 studs (5 inches)
24 studs (7.5 inches)
32 studs (10 inches)

Height: 50 bricks (19 inches)

Weight: 3.0 kg (6.6 pounds)

Pieces: 2500 (estimated)
Are you interested in having this cake at your event? Contact us with the date and location for additional information.
Tall Buildings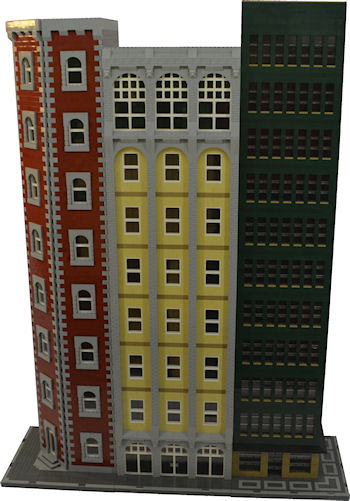 The left building features a wall that sits at a 45 degree angle to the rest of the building and window sills that protrude half a stud out from the dark red wall. The middle building includes varied first floor and top floor architecture in addition to details like lions heads at the tops of the four columns of gray masonry bricks. The right building has a more modern style with lots of windows. The sidewalks around the buildings are between 6 and 8 studs wide.
Heights:
Left: 102 bricks (38.5 inches)
Middle: 96⅓ bricks (36.5 inches)
Right: 105⅓ bricks (40 inches)

Foot Prints:
Left: 25 studs by 25 studs
Middle: 32 studs by 26 studs
Right: 24 studs by 24 studs

Pieces: 15,000 (estimated)
Ball Machine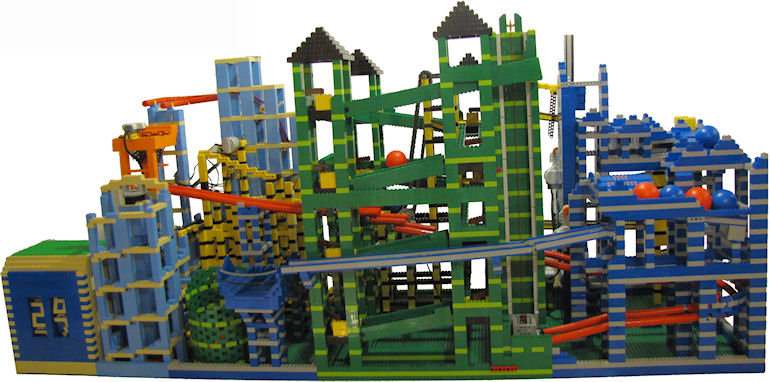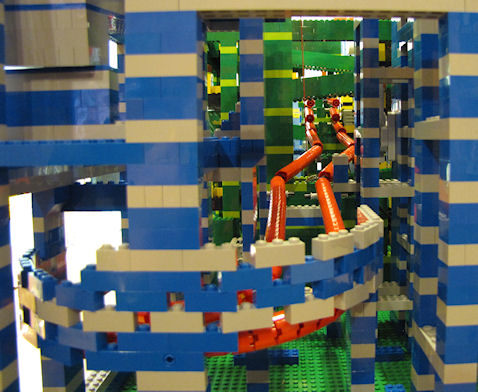 This LEGO ball machine was constructed using 10 motors and thousands of bricks. Its 14 balls move continually through the machine, taking approximately two minutes to complete a lap.
Two Mindstorms NXT bricks control the green lift, blue lift and ball counter. A combination of Power Functions and traditional 9V motors drive the remaining lifts. The machine is built entirely from LEGO -- even the balls are LEGO parts.
Width: 63.5 inches
Depth: 24 inches
Height: 30 inches

A video showing the machine in action is available on YouTube.
Pineapple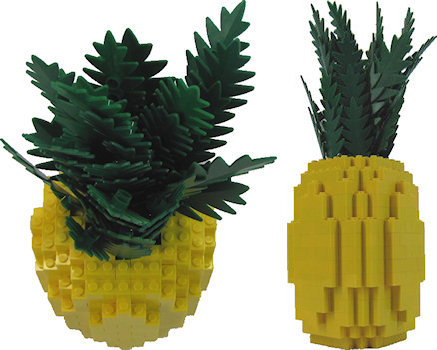 One day I felt inspired to build a pineapple, and this was the result.
Pieces: 350 (Estimated)

Width: 13 studs (4.1 inches)
Depth: 13 studs (4.1 inches)
Height: 11.5 inches

Weight: 504 grams (1.1 pounds)

Construction Time: 2 Hours
Click here to view more of Ben's projects...