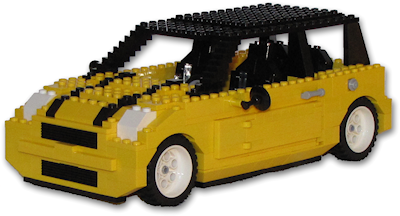 Are you looking for a special gift for the person with everything? Consider giving them a one-of-a-kind custom LEGO model!
Want a unique conversation piece at your event? Models can be rented!
We can design a model to your specifications, providing both the pieces and full-color printed instructions. For example, the model to the right was designed for a client who wanted a unique Christmas gift for her husband. We designed the model from the pictures she supplied and provided everything needed for her husband to build it on Christmas morning. A few pages from the instructions for that model are available by clicking on this link.
Would you like to see your corporate logo constructed out of LEGO? We will work with you to design an innovative piece that accurately represents your trademark in a fun way. LEGO models of corporate logos can vary in size from a few inches to about a dozen feet. We can construct it for you, or make it part of a team building event.
There are many factors that influence the cost of a custom model. Do you want to rent it or buy it? Do you want a fully assembled model, or instructions so that you can build it yourself? How many pieces does the model contain? Does it include rare pieces or unusual colors? Are there aspects of the model that make it particularly challenging to design and/or build? In the best case, a custom model for purchase might be as little as $0.25 per piece. A model for purchase that requires extensive design work, printed instructions and includes many rare pieces could reach a cost of $1.00 per piece or more. Rental rates depend on the complexity of the model, duration of the rental, and location where it will be shown. Please contact us to request a quote for your project.