Our racecar includes motorized pistons at the rear of the vehicle. It was also popular with many visitors at the 2012 Silver Springs and Scenic Acres LEGO Building Competition.

Width: 108 studs (34 inches)
Depth: 50 studs (16 inches)
Height: 38 bricks (15 inches)

Weight: 13 kg (28 pounds)
Pieces: 6500 (estimated)

Constructed: Fall 2011 / Winter 2012


These Jack O'Lanterns were included in the Southern Alberta Lego User's Group's display at the 8th Annual Westgate Community Lego Building Contest in Calgary. The middle Jack O'Lantern includes a LEGO "candle" made up of several 9 volt lights. Some of the lights blink, giving a candle-like flicker to the Jack O'Lantern's glow. Battery powered tea lights were used to light the smaller Jack O'Lanterns.

Pieces: 3200 (estimated)

Heights:
48 bricks (18.5 inches)
36 bricks (14 inches)
26 bricks (10 inches)

Widths:
32 studs (10 inches)
28 studs (9 inches)
24 studs (7.5 inches)

Weights: 6.7, 3.6 and 2.7 pounds

Constructed: October 2011

Additional photographs can be found here.

Unlike a real snowman, our LEGO version won't melt on a warm day!

Pieces: 1600 (estimated)

Height: 60 bricks (23 inches)
Width: 76 studs (24 inches)
Depth: 26 studs (8 inches)

Weight: 6.4 pounds (2.9 kg)

Constructed: Fall 2011

Building this snowman put our sphere generator to good use. But the balls in the snowman don't match the generated spheres exactly -- they were flattened slightly to make them look more realistic.

Additional photographs can be found here.

When completed, this colorful oil rig stood more than 7 feet tall. It was carefully designed to use almost exclusively 2x4 bricks, allowing a couple hundred people to contribute to its construction over a two hour period as part of an event at a Calgary energy company.

Pieces: 5,100 (estimated)

Height: 220 bricks (84 inches)

Width and Length:
Base: 64 studs (20 inches)
Tower: 32 studs (10 inches)

Weight: 15 pounds (7 kg)

Constructed: May, 2011

Constructed during the fall of 2010, Brickosaurus was completed just in time for the Annual Scenic Acres / Silver Springs LEGO Contest in Calgary, where he won first prize in the Animals and Figures category for the adult age group. He was also a croud favorite, with a few children wanting to sit on him and have their pictures taken. A time lapse video of his creation is available on YouTube.

Pieces: 12,250 (estimated)

Height: 100 bricks (38 inches)
Width: 48 studs (15 inches)
Length: 162 studs (51 inches)

Weight: 38 pounds (17 kg)

Construction Initiated: August, 2010
Construction Completed: January 6, 2011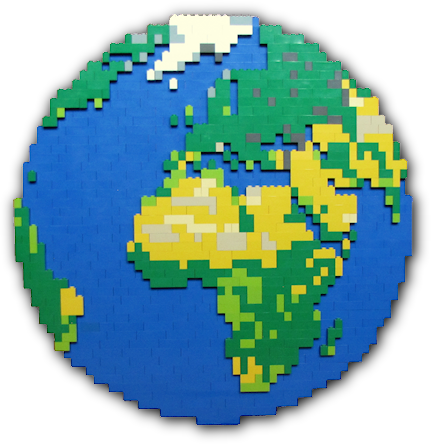 This mural was constructed in the "studs-up" orientation, with the LEGO bricks stacked on top of each other. It won first prize in the Creative Inventions category for the adult age group at the 2008 Scenic Acres / Silver Springs LEGO Contest in Calgary. The back of the mural is plain blue.

Pieces: 1000 (estimated)

Height: 46 bricks (18 inches)

Width: 50 studs (16 inches)
Depth: 3 studs (1 inch)

Weight: 3.3 pounds (1.5 kg)

Constructed: November, 2005