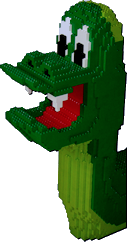 We specialize in designing and building large LEGO models in Calgary, Alberta, Canada. Whether it's a 7 foot tall drilling rig constructed by your employees as a team building exercise, or you want a 12,000 piece dinosaur for display at your event, we can supply the parts, instructions, expertise and complete models necessary to make your event a success. Check out this page to see some of the pieces we have recently completed.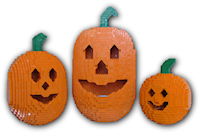 Want your corporate logo built out of LEGO? No problem. We'll work with you to design and build an innovative piece that accurately represents your trademark in a fun way. Looking for a unique gift for your customers, employees, or a LEGO enthusiast? We can design a custom kit, provide the parts and printed instructions, and package them so that they are ready to hand out. Visit our Custom Models page for more information.
If you have an idea that involves LEGO (especially large amounts of it) we can help you make it a reality. Please contact us so that we can explore your idea together.

Calgary's New Central Library constructed by Ben Stephenson using approximately 100,000 bricks.

Six dignitaries were presented with Lego hardhats at the Calgary Municipal Land Corporation's Topping-Off ceremony for the New Central Library. Photo courtesy of the Calgary Municipal Land Corporation.